Delivery Associate
What Blue Dart Logistics Inc. is Hiring for:
Job Summary:
We aim to look for dependable and experienced Delivery Drivers to join our busy delivery team. Drivers will load up their trucks with orders and deliver them to customer locations in areas such as Cochrane and NW Calgary. We expect our drivers to be courteous and professional when interacting with customers. All our delivery drivers must have a valid driver's license, a clean driving record, and can lift up to 50 lbs. You must also be familiar with the area to ensure you make on-time deliveries. The starting wage is CAD $16.50/hour.
Duties and Responsibilities:
· Safely drive and operate our delivery vehicle, keeping it clean and tidy
· Use hand held device for routing information, customer delivery information.
· Navigate a variety of routes throughout delivery area
· Ensure products are delivered in a timely manner
· Must be comfortable driving and working in varying weather conditions
· Load and organize product inventory from the warehouse into your vehicle and unload products in and out of the truck as needed throughout the day
· Lift packages up to 50 lbs.
· Able to get in and out of van and walk up and down stairs through your shift
· Be Customer Obsessed!
Requirements and Qualifications:
· High school diploma
· Valid driver's license (Class 1, Class 3, Class 5)
· A clean driving record with no moving violations
· Proficient at driving and parking large vehicles
· Physically fit and strong, able to lift up to 50 lbs comfortably
· Experience in delivering packages is a plus
· Dependable and hardworking
Blue Dart Logistics is an Equal Opportunity Employer. Blue Dart Logistics does not discriminate on the basis of race, religion, colour, sex, gender identity, sexual orientation, age, non-disqualifying physical or mental disability, national origin, veteran status or any other basis covered by appropriate law. All employment is decided on the basis of qualifications, merit, and business need
If this is something you're interested in, please email your Resume and a recent 5 year Driver's Abstract to info@labluedart.com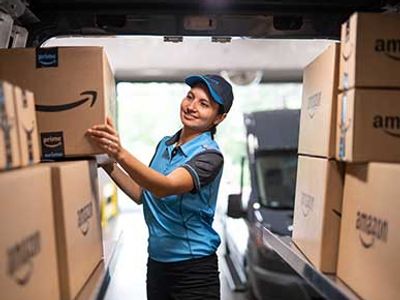 Location / region:
This listing from Blue Dart Logistics Inc. is available in Calgary.
Requirements:
Blue Dart Logistics Inc. has indicated that these are the requirements for the listing:
Valid Driver Licenses
Physical
Long Hours
Secondary (high) school graduation certificate
Requirements may not be comprehensive. Confirm w/employer.
About Blue Dart Logistics Inc.:
Blue Dart Logistics Inc. is a delivery service company that opened in April 2020. We have a partnership with Amazon and work under Amazon as a third-party contractor. In other words, we are known as a Delivery Service Provider (DSP) for Amazon. We manage a team of more than 60 employees, with fleets of more than 20 vans delivering packages seven days a week, serving thousands of customers. Our goal is to provide and deliver packages to businesses and customers through our quick and efficient delivery service.

Read more on Blue Dart Logistics Inc. job listings
Ready to apply ?
Interested in this lead from Blue Dart Logistics Inc.? It's time to take action!